COLLECTION OF KERALA FESTIVAL PICTURES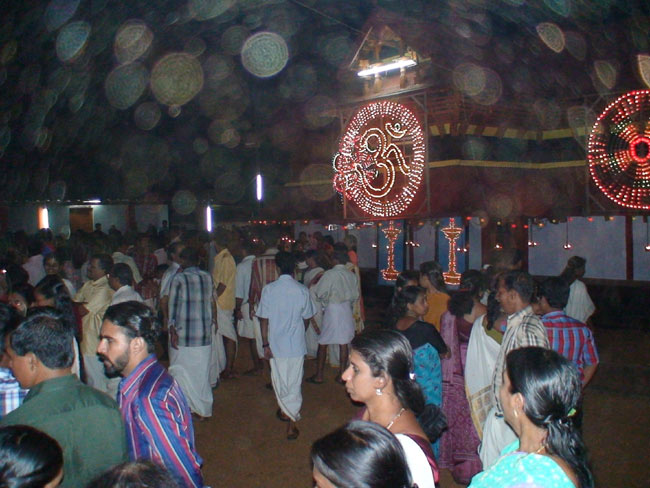 The State Festival
' Onam' is the state festival of Kerala. It is being celebrated as per the Kerala yearing system known as Kollavarsham. Mostly it is celebrated in Augest-September and the entire state will be in a festive mood then. It is being celebration in comemmoration of king Mahabali returning to visit his people in his land.
The Harvest Festival

' Vishu' is the harvest festival of Kerala. Again it is being celebrated as per Kollavarsham and it used to comes in the middle of March. Its is the beginning of summer season and the speciality of this festival is that you can find 'Kanikkonna', the state flower all over the state like a golden blanket.
Religious Festivals
Kerala is a secular state and you can find people from lot many religions leaving in harmony. Religious festivals a many to be listed.
Kunnimony is a rare festival of south central kerala when little kid girls attain puberty. They shower kunnimony (a kind of tree-seed) from a fragile glass container. Thot of as a rare breed of celebrating puberty.

Thiruvadira - A Womans festival
This festival commomerates the death of Kamadeva the Cupid God. A visit to the Shiva Temple in the morning, fasting and eating Thiruvathira Kali are some of the key activities
Christian Religious Festival

Christmas
All Christians celebrate Christmas as the birthday of Jesus Christ on 25th Dec. Holy Mass is held in all the churches in the state. Carol singing, setting up of Christmas tree in all churches and homes, exchanges of cards and receiving gifts from Santa Claus are all integral part of the festivities associated with the birth of Jesus Christ. There is a feast in every Christian home with meat as a special item, and the celebrations of Christmas leave good memories in every heart.
Easter
This is another important festival of Christians, which commemorates the resurrection of Jesus Christ. Easter usually falls in March-April, after 40 days lent of fast and penance. Christians go for mid-night mass, as a memory of the resurrection of Jesus, 2000 years ago.
Other Christian Festivals
St.George's Church, Edathwa - 27 April to 7th May
St.Sebastian's Church, Arathungal - 20th January to 31st January
St George's Church, Aruvithura - 22nd to 24th April
St Thomas Shrine, Malayattur - Last week of March or first week of April
St Mary's Orthodox Church, Manarcad - Sepember 1st to 9th
Parumala, Mannar
Maramon Convention

January
01-01-2008
New Year Day, Shivagiri Thirthdana Samapanam, Guruvayoor Parthasaradhi Kodiyettu, Trissileri Chuttuviliakku
02-01-2008
Mannam Jayandhi, Nagyar Kulangara Arattu, Kavuyoor Kodiyettu, Thiruvairanikkulam Parvathy Nadathurappulsavam, Chithambaram radham
11-01-2008
Erumeli Pettathullal, Kaviyoor Arattu,
12-01-2008
Pandalam Valiya koyikkal valiya koyikkal Kshetra thiruvabharana Khoshayatra,
14-01-2008
Makara Jyothi (Shabarimala, Mumbai Kanjoor marg Ayyappa Temple
23-01-2008
Thaipooyam
26-01-2008
Republic day
30-01-2008
Gandhi smaraka Dinam, Ernakulam Aarttu, Vallikkavu thalppoli
February

03-02-2008
Cherukolpuzha Convension
10-02-2008
Maramaon Convension
17-02-2008
Ettumanoor Arattu
18-02-2008
Guruvayoor Kodiyettu
24-02-2007
Kaloor St. Antonies church perunal
27-02-2007
Guruvayoor Aarattu
28-02-2007
Vaikathazhtami
March
03-03-2008
Thiruvilwamala Ekadasi
05-03-2008
Sivarathri
09-03-2008
Sreeramakrishna Jayanthi
11-03-2008
Kumbha bharani
12-03-2008
Sabarimala Kodiyettu
20-03-2008
Nabi Dinam, Pesaha
21-03-2008
Good friday
22-03-2008
Holi
23-03-2008
Easter
30-03-2008
Malayattur Thirunal
April
08-04-2008
Meena Bharani
13-04-2008
Sreerama Navami
14-04-2008
Vishu,Ambedkar Jayanthi
16-04-2008
Thrissur Pooram
20-04-2008
Hanumanjayanthi
21-04-2008
Swathithirunal Jayanthi
23-04-2008
Pathamudayam
May
01-05-2008
May day
06-05-2008
Vaisakha masarambham, Chattambi swami samadi
07-05-2008
Puthuppalli, Edatwa perunal
09-05-2008
Sreesankara Jayanthi
18-05-2008
Narasimha Jayanthi
June
1-06-2008
Vanakamasam Arambam
15-06-2008
Oochirakkali
July
03-07-2008
St. Thomas Dinam
16-07-2008
Ramayana Masarambham
August
1-08-2008
Karkidaka Vavu
9-08-2008
Nehru trophy Boat race
15-08-2008
Independence Day, Kaloor St Antony Palli Janana Thirunnal
23-08-2008
Sreekrishna Jayanthi, Chattambi swami jayanthi
September
01-09-2008
Ramsan vritharambam, Ettu nombu arambam
02-09-2008
Thripunithura Atham
3-09-2008
Vinayaka Chathurthi
4-09-2008
Viswakarma Jayanthi
8-09-2008
Manarcadu perunal
11-09-2008
Onnam onam
12-09-2008
Thiruvonam
13-09-2008
Moonam Onam, Ayyankali Jayanthi
14-09-2008
Nalam Onam, Sreenarayana Jayanthi
17-09-2008
Viswakarma Dinam
21-09-2008
Sreenarayana Guru Samadi
24-09-2008
Vallarpadam thirunal
30-09-2008
Navarathri arambam
October
01-10-2008
Edulfithar
02-10-2008
Gandhi jayanthi
07-10-2008
Durgazhtami
08-10-2008
Mahanavami
09-10-2008
Vijayadasami
27-10-2008
Deepavali
November
01-11-2008
KeralaPpiravai
02-11-2008
Parumal Palli Perunnal
14-11-2008
Sisudinam
16-11-2008
Mandalam Arambham
20-11-2008
Vaikathazhtami
23-11-2008
Thriprayar Ekadesi
December
08-12-2008
Edul Ashah
09-12-2008
Guruvayoor Ekadesi
11-12-2008
Thrikarthika
13-12-2008
Narayaneeya Dinam
25-12-2008
Christmas
30-12-2008
Sivagiri Theerthadanam